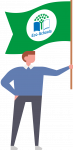 Eco-Schools Global
How, when, where and why the Eco-Schools programme began.
Eco-Schools is operated globally by the Foundation for Environmental Education (FEE), a non-profit non-governmental organisation founded in 1981 in Leiden, Netherlands. In 1987 FEE introduced the Blue Flag Award, an environmental accreditation for beaches and marinas (which we also manage and run in England at Keep Britain Tidy!)
After the success of the Blue Flag Award, FEE recognised the need to address school-based environmental education. In 1992, the UN Conference on Environment and Development in Rio de Janeiro, highlighted the importance of youth-led environmental action. In response to this, FEE developed the concept of Eco-Schools. The programme was first piloted in Denmark in 1992, before expanding to Germany, Greece, Scotland, Northern Ireland, Wales and England in 1994.
Now, Eco-Schools is the largest educational programme on Planet Earth, implemented in 68 countries, involving 59,000 schools and engaging 1.3 million teachers and 20 million students!