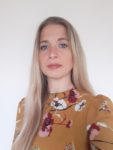 Lee Wray-Davies
Eco-Schools National Manager
Role
As the national manager of Eco-Schools England, it is my job to make sure that myself and my team are doing everything we can to help support our schools to implement the programme in a 'real' education setting. No school has to be an Eco-School yet thousands of you have given your valuable time to manage and run the programme in your schools, whilst juggling numerous other tasks and responsibilities.  Until we get 'eco' firmly back on the curriculum we will work in partnership with national and local organisations and charities to develop topic actions that can be incorporated into all current curriculum areas- without creating additional work for teaching staff.
I also write all Eco-Schools communications and manage our social media accounts so don't forget to @EcoSchools or #EcoSchools in any eco-posts, its always inspiring to see what everyone is doing (and I promise to try to like and share as many as possible!)
Favourite Eco-Schools Step?
For Step 6 Monitoring and Evaluation we encourage students to keep a track of the impact of their actions, no matter how small (as small is better than not at all) and if things don't go to plan to investigate why, perfect for growth mindest. We have a great example of an inner city primary school, where the pupils wanted to have a llama farm however upon investigation they found out this was not going to be possible. They scaled down to chickens; still not possible and eventually they ended up growing spring onions. The pupils didn't get upset that their original action plan (Step 3) had to be changed and they were very proud of their spring onions on their Eco-Schools Green Flag assessment visit!
Favourite Topic?
Climate Change– so this is not technically an Eco-Schools topic but as a former Geography teacher I think it is important to realise that by working on any of our 10 Eco-Schools topics you can make a positive change to reduce your carbon footprint either directly or indirectly. I don't think that any of our topics can be looked at individually. Depending on the actions that Eco-Committees choose they could be working on multiple topics with just one action- everything is linked.
Get in touch