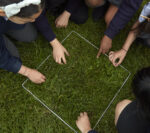 Further Information & Resources
Use these resources to plan and refine your scientific questions!
An overview of the Explore: Urban Nature project and how students can submit their scientific questions.
Question Generation Activities
A series of 5-20 minute activities designed to encourage young people to develop scientific questions based on their own observations.
What makes a question scientific? Use this resource to find out!
Investigating and Improving Questions
A peer-review activity encouraging students to work in pairs to investigate and improve their initial questions.
What is Your Strongest Science Question?
A resource that can be used in combination with the Scientific Questions Criteria resource to identify and improve student's strongest scientific question.
A class activity featuring interesting Urban Nature questions that have been previously asked. Great for inspiration and helping young people develop their own scientific questions further.