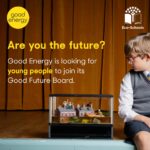 Role
What will be expected of me as a member of the Good Future Board?
Members of Good Energy's Good Future Board will be required to join two to three meetings, to be held virtually over video call, within 12 months. These meetings, hosted by a chairperson or chairpersons from Good Energy, will be an opportunity for you as a Good Future Board member to see and hear about Good Energy's plans as a business, and share your thoughts.
You will have the opportunity to present your own ideas to Good Energy and you may also be invited to be involved with Good Energy's annual general meeting where the company's investors are updated on the business strategy.
Full Good Future Board terms and conditions will be provided to the successful six applicants at the time of their appointment by Good Energy