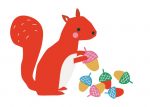 Register for the LEAF Programme
Those wishing to take part in the LEAF programme during Spring and Summer terms 2021, in order to apply for their LEAF Award in June or July 2021 will need to register here.
Click Here to Register
Please note: Even registered Eco-Schools will need to complete the simple LEAF registration form to join, as LEAF is a separate education programme and award managed by the education team at Keep Britain Tidy.
The person registering a school, youth group or home-schooled family for the LEAF programme must be over 18 years of age and be in a role or position that enables them to help young people work through the 'Forest Cycle' to achieve their LEAF Award.
We suggest this person is: employed by a nursery, school or college, a youth group lead such as a Scout Leader or the parent/guardian responsible for home-schooling.