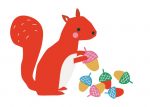 Register for the LEAF Programme
Please note: Registered Eco-Schools will still need to complete the simple LEAF registration form to join as LEAF is a separate education programme and free award managed by the education team at Keep Britain Tidy.
The person registering a school, youth group or home-schooled family for the LEAF programme must be over 18 years of age and be in a role or position that enables them to help young people work through the 'Forest Cycle' to achieve their LEAF Award.
We suggest this person is: employed by a nursery, school or college, a youth group lead such as a Scout Leader or the parent/guardian responsible for home-schooling.