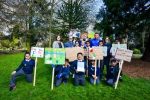 Litter Less Campaign Actions
Over the 10 days participants to the will be asked to complete  seven actions to help reduce waste and pollution in their schools and local communities.
Participants will also be asked to complete two surveys to help measure the impact of the Litter Less Campaign globally. Surveys will be completed during Action 1 and Action 6.
When you have completed both surveys don't forget to download your Litter Less Campaign participation certificate and display on your Eco-Board!