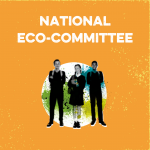 Apply for the National Eco-Committee
Please read all of the information on this page before using the correct application form for your age to apply to join the National Eco-Committee.
Saturday 20th November 2021, World Children's Day: National Eco-Committee application window closes at 4.00pm
Week commencing 13th December 2021: Each school day Eco-Schools England will introduce five of the successful applicants on social media in our National Eco-Committee Advent Calendar.
Please note we will be using as many of the different, green curriculum ideas included in the National Eco-Committee applications as possible to create a new resource for Step 4 of the Eco-Schools Seven Steps that we will share with all Eco-Schools in England at the start of 2022.