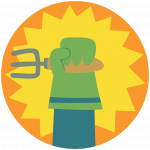 Action Plan Criteria
In order to achieve the international Green Flag award a school or nursery must meet the following criteria, which has been created for Early Years settings
An Action Plan is created with input from children on the Eco-Committee.
Actions on your Action Plan are led by staff, but designed to involve children.
You have planned actions for three topics (if working towards your first Green Flag) or five topics (if you are renewing your Green Flag, changing two of the five topics with every subsequent renewal application).
Your Action Plan contains timescales, who is responsible for the actions and how your topic actions will be monitored and evaluated.
Older children on the Eco-Committee share your Action Plan with other children and staff in your school or nursery.
A copy of your Action Plan is displayed on your Eco-Board.