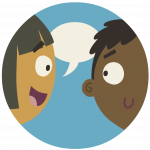 Informing and Involving Criteria
In order to achieve the international Green Flag award a school or nursery must meet the following criteria, which has been created for Early Years settings
Your school or nursery has a prominent and designated Eco-Board detailing all work on the Eco-Schools Seven Steps and chosen topic actions. This includes:

Eco-Committee members with age and photograph (if possible)
Evidence of Eco-Committee meetings
A completed copy of the Eco-Schools Environmental Review
Your Action Plan
Examples of Monitoring and Evaluation
Your Eco-Code
Evidence of project work

Your Eco-Board should be regularly updated to reflect your Eco-Schools work.
Adults on the Eco-Committee use a variety of mediums to help communicate their topic actions (for example social media, website, e-newsletters).
Your whole school or nursery and its wider community is involved in Eco-Schools work (for example parents, carers, local authorities, businesses, charities, neighbouring school and residential groups).