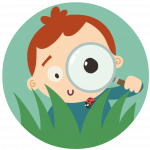 Monitoring and Evaluation Criteria
In order to achieve the international Green Flag award a school or nursery must meet the following criteria, which has been created for Early Years settings
Your Eco-Committee monitors the effectiveness of their Eco-Schools topic actions with adult support.
Older children on the Eco-Committee feedback their monitoring and evaluation findings to all children, staff and parent/guardians in the nursery.
Eco-Schools activities are displayed on your Eco-Board for example photographs of your chosen actions (Including before and after photographs).
Children have discussed whether their Action Plan was successful and if not how they could make it more successful.
OPTIONAL FOR FIRST GREEN FLAG: Some monitoring and evaluation data has been used in your school or nursery's curriculum, for example counting, tally charts or maths activities.