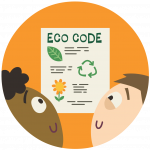 Eco-Code Criteria
In order to achieve the international Green Flag award a school or nursery must meet the following criteria, which has been created for Early Years settings
Children on the Eco-Committee are involved in creating your Eco-Code.
Your Eco-Code must reflect the topics you are working on in your Action Plan.
Your Eco-Code is displayed on your Eco-Board and throughout your school or nursery.
Children are aware of or have an understanding of the Eco-Code depending on their age or stage.