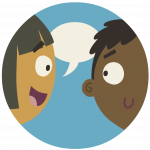 Informing and Involving Criteria
In order to achieve the international Eco-Schools Green Flag award a school or nursery must meet the following criteria, which has been created for Early Years settings
Your school has a prominent, designated and up-to-date Eco-Board (physical or digital) detailing all your Eco-Schools work. This includes evidence of topic actions and work on each of the Seven Steps (see criteria for each step for further details).
Adults on the Eco-Committee use a variety of mediums to help communicate their topic actions.
Your whole school or nursery has the opportunity to participate in Eco-Schools work.
Optional for first Eco-Schools Green Flag: Your wider school community benefits from, or is invited to participate in, your Eco-Schools work.