Working with others on local and global issues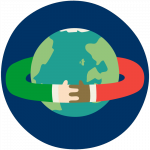 We are currently working on a new early years global citizenship action
Come back soon for further details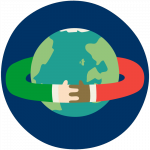 Other Ideas
Working with local, national and international charities will be accepted as evidence for our Global Citizenship topic from Send a Cow, helping to lift an African Community out of Poverty, to learning about the UN's Sustainable Development Goals.
Send a Cow
Send a Cow trains rural African communities in the skills they need to grow food and earn an income, their resources facilitate conversations with students about Africa, food and sustainability teaching young people to be global citizens. Their living with wildlife appeal teaches school children in Uganda about conservation.
Learn more about Send a Cow here
UN Sustainable Development Goals
Interestingly, like Eco-Schools the UN Sustainable Development Goals (SDGs) were a result of the 1992 Rio Earth Summit. The SDGs are a blueprint to achieve a better and more sustainable future for all by addressing the interlocking global challenges we face for example poverty or climate change. It's never too early to begin thinking about these challenges from discussing what it feels like to be hungry to talking about being friendlier to each other.
Find Sustainable Development Goal school resources here
Fairtrade Fortnight
Fairtrade is about better prices, decent working conditions, local sustainability and fair terms of trade for farmers and workers in the developing world. You can become a Fair Trade School or register for their annual Fairtrade Fortnight below.
Global Citizenship Topic Winner, Eco-Schools Award Ceremony
Amongst 2 weeks worth of whole school activities, St John's completed a Run for the Rainforest raising funds to purchase and preserve acres of rainforest in Mexico.
Highbury Lodge Day Nursery, Hitchin
After the Eco-Committee at Highbury Lodge completed their Environmental Review, it was apparent that the nursery had plenty of surplus fabrics and materials destined for recycling, if they couldn't first be reused in the nursery! The learning topic they were currently working on, children around the world, provided the answer. Research had revealed that, unfortunately, some children weren't fortunate enough to have many toys and were forced to create their own toys using available materials. The Eco-Committee at Highbury Lodge decided to do the same - using old bubble wrap and string they made a football and with the aid of an old, unused hoop they weaved leftover fabric strips and made a mat for their reading corner. Now every time a child sits on the mat, they remember other children around the world who are not as fortunate as themselves.
Nursery Website