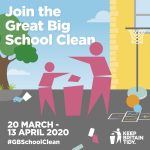 The Great Big School Clean
This year we have been absolutely blown away by the support from teachers and pupils for the Great Big School Clean. With almost 2,000 schools signed up, the enthusiasm and excitement it has generated has exceeded all our expectations. However, our first priority is to make sure everyone stays safe and well so we have taken the difficult decision to postpone this year's Great Big School – to run alongside the rescheduled Great British September Clean – from September 11 – 27.
11th September – 27th September 2020
We are hoping that all nurseries and schools that have already signed-up will extend their support and take part in the rescheduled School Clean in September. If you do decide to continue to support the Great Big School Clean, you do not need to update us on your new clean-up dates, we just ask that you reschedule your planned activity for the autumn term. If you no longer want to participate in the Great Big School Clean you can contact us at enquiries@keepbritaintidy.org and we will remove your clean-up activity.
If you have not already registered for the Great Big School Clean you can do so by clicking below. Upon registration your nursery will receive an EYFS Seven Step #GBSchoolClean teaching guide and other resources such as a litter picking homework to help with Step 5 informing and involving.
AND… if your school or nursery takes part in the Great Big School Clean, you could be in with the chance of winning £1,000 in education equipment, thanks to our campaign partner Wilko. Terms and conditions apply, visit our Keep Britain Tidy website to find out more, we are currently reviewing the competition and will provide further details in due course.
Register for the Great Big School Clean today