Finding more environmentally-friendly ways to travel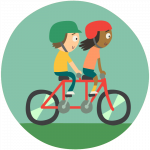 We are currently working on a new Transport action
Come back soon for further details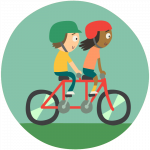 Other Ideas
There are a lot of other charities and organisations providing fabulous and free resources that may help you work on our Transport topic, here are a few of our favourites.
Modeshift Stars
Modeshift Stars is supported by the Department for Transport and is a national award scheme that every school in England can participate in for free (note for private nurseries there is a small one-off fee). The scheme encourages schools across the country to join in a major effort to increase levels of sustainable and active travel in order to improve the health and wellbeing of young people.
Find out more about Modeshift STARS
Living Streets (Walk to School Week)
Since 1929, Living Streets have wanted children and parents to make walking to school their natural choice. They run the annual Walk to School Week as well as their WOW Year Round Walk to School Challenge, which many councils provide to schools for free.
Learn more about Living Streets
Transport Topic Winner, Eco-Schools Award Ceremony
Avenue Primary School tackled our transport topic in two ways: by raising awareness of issues surrounding air pollution and encouraging their pupils to travel sustainably to school.