Caring for all plants, animals and insects
Curriculum Examples
English– write a non-chronological report about an animal or plant that is an endangered species.
Maths – complete a pictogram of the different types of insects children find in the school grounds/ local park or outside space at home.
Science – children could identify and name a variety of plants or animals around their school grounds or local area.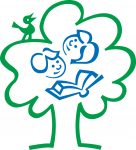 BIODIVERSITY NATIONAL CALL TO ACTION
Other Actions
There are lots of organisations out there who can help here are just a few we recommend
School Examples
Lutley Primary School, Halesowen
The Eco-Council at Lutley Primary School carried out an evaluation of their school grounds as part of their Environmental Review, one of the areas that they felt needed improvement was their little Wildlife Garden and its pond. As a result, their wildlife team, 'The Lutley Larks,' spent an afternoon clearing the garden of litter and dead vegetation. At the same time, they created some desirable homes for the many frogs that have been spotted in the pond. There are clay 'Frogitats' that you can buy, but the team decided to research ways to make their own out of broken clay plant pots (they also decided this was a good way to reuse items). They lined and covered the broken clay pots with dead leaves and moss to make a perfect home for frogs. They later discovered that lots of frogspawn had been laid in the pond, so they hope that the frogs will take advantage of their new abodes!
School Website
Woodfield Primary School, Wigan
The wildlife area in the school grounds at Woodfield Primary supports and enhances our curriculum throughout the year. We use the area as an alternative teaching space which contributes towards a healthy lifestyle for all those involved. The children love to use the area as it gives them the opportunity to learn outside the classroom, engage with/understand nature and it also supports their mental health and well being. Our greenhouse, which was built by parent volunteers with plastic bottles supplied by the children, is used to grow plants for the wildlife area. This has helped to bring our community together and given all involved a sense of pride, belonging and investment.
School Website