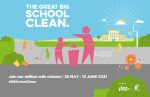 The Great Big School Clean
Eco-Schools and Keep Britain Tidy's Great Big School Clean is back for 2021!
28th May – 13th June 2021!
This year we're on a  #MillionMileMission. We're asking schools to pledge how many pupils will take part and how many minutes they will litter-pick for. Then, using a slow walking pace of three miles per hour, we will calculate how many miles of litter picking your school will complete or have completed. We hope that together we can collectively complete a million miles of litter picking… or in other terms, enough litter picking to get to the moon and back twice!
The Great Big School Clean will take place from 28th May – 13th June 2021, but any litter picks completed in the meantime will also count towards our total if you enter your data. Click the link below to discover resources and pledge to pick!