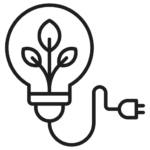 About
A two-minute read providing a brief overview of the Eco-Schools Programme.
In our experience, educators and young people care deeply about environmental issues and have a strong desire to actively protect our planet. However, environmental issues such as climate change, biodiversity-loss, or plastic pollution are huge global issues and the thought of tackling them can be intimidating, leaving many feeling overwhelmed and wondering 'Where do I begin?'
The Eco-Schools programme provides a simple, seven-step framework that answers this question whilst empowering young people to make a difference in their school, local community and beyond. Since 1994, millions of young people around the world have worked through the Eco-Schools Seven Steps before being recognised for their efforts with a prestigious Eco-Schools Green Flag.
Schools connect their activities to three or more of the Ten Eco-Schools Topics. These topics break large, global issues like climate change into more manageable and directed themes that prompt young people to consider environmental changes that they can make in their school and everyday lives.
For further information on the Eco-Schools Seven Steps and how they are delivered, check out the Nurseries or Schools section of our website. To find out more about the Ten Eco-Schools Topics (including examples) click here. Please also take the time to register for free and login to our Eco-Schools portal, where you can also access our resources and apply for an Eco-Schools Green Flag.