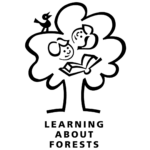 What is LEAF?
A brief introduction to the international Learning About Forests programme.
What is LEAF?
LEAF is a fun, bitesize programme that exists within the wider Eco-Schools award. It's designed to give Early Years and KS1 people a deeper connection to the green spaces around them – from local forests and woodlands, to parks and gardens, to the biodiversity in their learning setting.
LEAF challenges young people to choose and complete 3 of our outdoor activities across an academic year. This work can then be used as evidence to apply for your Eco-Schools award, in particular, as part of your Biodiversity topic work. You can note in your Eco-Schools application that you have completed 3 LEAF activites, add information on the work that you did, and receive a certificate of achievement to print and present in their settings.
The programme blends subjects, skills and learning approaches to form an accessible and positive entry to nature for curious young minds.
Who is LEAF for?
LEAF is ideal for:
Nurseries
SEND providers
KS1
Why should we do the LEAF programme?
As well as providing evidence for your Eco-Schools Green Flag application, the LEAF programme is proven to:
Develop positive and curious attitudes towards local nature
Increase knowledge about the ways that nature connects to our lives
Empower young people to take responsibility for local nature
To learn more about LEAF, the themes that activities connect to, and the history of the programme at LEAF Global.