Good Energy Seeking Student Board Members
Eco-Schools England are delighted to announce a new and exciting partnership with renewable electricity supplier Good Energy. Eco-Schools and Good Energy are together creating a Good Future Board of shadow directors made up of six students aged 12-18. The Good Future Board will be responsible for presenting ideas to the Good Energy team and scrutinising their business strategy.
For more than 20 years Good Energy has been on a mission to power a cleaner, greener world, having become the UK's first 100% renewable electricity supplier in 1999. Good Energy believe that it is possible to live in a world where the only type of energy is renewable. They want to protect young people's future, and now they are looking for passionate, innovative and committed young people to help them. Most top UK company boards contain very experienced members (with an average age of nearly 60!) but experience is in the past, and Good Energy want to think about the future. Young people bring ideas, enthusiasm and audacity – if they see a barrier, they simply clamber over it and have fun whilst doing so. This is exactly what the team at Good Energy want. So, if you are an eco-warrior with 12-18 years' experience living on planet Earth who wants to create a greener future and doesn't mind questioning adult's decisions, Good Energy needs you!
Good Energy CEO and Founder Juliet Davenport: We've heard enough from grown-ups. They've blown it on tackling climate change. We want to hear from young people, and Eco-Schools as the top environmental education programme are the perfect partners to help us to do that.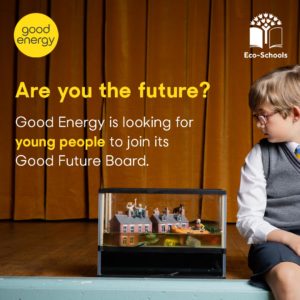 To apply, you will need to submit a simple application form that includes a short personal statement – no longer than 500 words – before Friday 5th February 2021. Your 500-word personal statement should address the following questions:
What inspired you to care for our planet?
What skills or experiences you can bring?
Do you have one idea for how a renewable energy company can do more to help protect the planet?
Students can apply individually and do not have to be a member of their school or college's Eco-Committee (although if you are applying for the Good Future Board you probably would be a valuable new addition to the Eco-Committee!) Schools and Eco-Coordinators can submit multiple entries on behalf of as many students as they wish.
The six students selected for the Good Future Board, will be initially appointed for 12 months and asked to attend at least two virtual meetings during the year. These Good Future Board meetings will be hosted by Good Energy and give appointees the opportunity to present ideas and question decisions. You might even be invited to Good Energy's annual general meeting, during which all the company's investors and directors are updated on Good Energy's business strategy!
Lee Wray-Davies, Eco-Schools Manager: As a year 13 group tutor for over sixteen years I advised and helped many of my former Geography and Environmental Science students write their personal statement for UCAS or covering letter for job applications. That's why I was so keen for Eco-Schools England to support this fantastic opportunity from Good Energy. Not only can this new Eco-Project be used by schools as an Energy topic action but is also a great Step 4 link to the pastoral curriculum for schools working to or renewing their Eco-Schools Green Flag. This is definitely something I would have been telling all my students to apply for; an unbelievable life experience that is going to enhance any college, university or job application in the future.
If you want to benefit from this amazing opportunity to protect our planet, influence policy and build your personal statement, apply now to be a member of the Good Future Board!