Half-Term Inspiration
The Eco-Schools team can't believe that it's already November – the first half-term of this academic year has passed in the blink of an eye. At Eco-Schools we have been both overwhelmed and amazed by the determination of teaching staff and pupils to carry on actively protecting our planet, despite us all finding ourselves in the toughest of circumstances. A massive thank you to all those schools who have shared their work with us via the website, Twitter and on our first ever online training sessions, you are the reason the Eco-Schools programme continues to be a success and we will be updating the website with your fantastic examples as soon as possible.
For now, we just want to celebrate some of the fantastic work we have discovered since lockdown began- including a GUINNESS WORLD RECORD topic action!
De La Salle School, St Helens
The banner image above this news story is a photo of the largest insect hotel in the world – achieved by pupils of De La Salle and teacher Kieron Foster and based just minutes away from the Eco-Schools office in St Helens! In June 2019, the Eco-Committee decided to create a bug hotel, in order to work towards an Eco-Schools Green Flag. After researching bug hotels, they found the world's largest was based at Martin Mere (also in North West England) and measured in at 19 metres – they knew that it would be a challenge to build bigger, but could be done! They enlisted the help of their wider school community – collecting donations from parents, friends, local businesses and the council and began construction. Despite a rival record attempt from a group in Germany and COVID-19 delaying construction, they found out they there 81.26 cubic metre bug house was a world record holder on July 8th this year! Congratulations De La Salle, we couldn't be prouder to call you an Eco-School!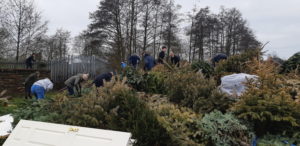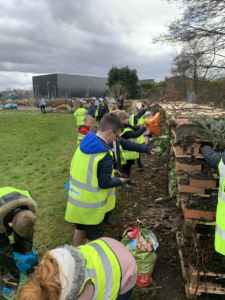 Challock Primary School, Ashford
The Eco-Committee at Challock Primary School caught our eye with an unusual take on our School Grounds topic. Sadly, a tree on school premises had to be felled, but Eco-Coordinator Sam and her committee were determined to ensure every part of their felled tree would be used to benefit the school and celebrate the tree's life! They contacted a local chainsaw artist who carved a beautiful story chair, used branches to create candle holders (that are being sold to fund Eco-Schools work), created even more seating and used leftover woodchip as the base for their woodland area. If this celebration of their felled tree wasn't enough, they even planted two more trees in its honour! Fantastic work Challock!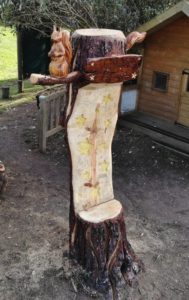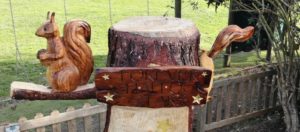 St Mary's School, Colchester
St Mary's (seven Eco-Schools Green Flags, over 14 years) have also been in touch sharing some of their fantastic eco-curriculum ideas- you might have seen their recycled Eco-Schools logo when you clicked on this story. For Step 4: Curriculum Links they identified mammals in their school grounds by setting tunnels in different areas of the school, each with different animal food creating a brilliant display including evidence for Step 6: Monitoring and Evaluation. Another curriculum link was in art where they used single-use plastics to create marine-based murals – a really powerful statement!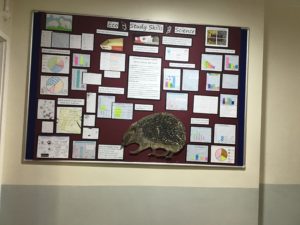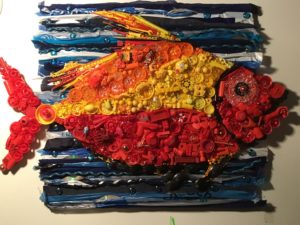 Irlam and Cadishead Academy, Manchester
And finally… one of the actions on Irlam and Cadishead Academy's Action Plan really caught our attention – their cardboard paper recycling bin monster! Created to encourage recycling in their school – we think this sounds like a great idea for a future national Eco-Schools competition, what do you think?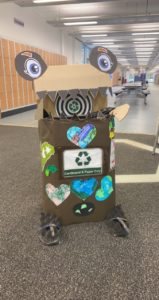 Have you got a great Eco-Schools story?