Harvest Festival LIVE: Winning Poem
Congratulations to Violet, aged 9 from West Lodge School who won our Harvest Festival LIVE 'How Nature Helps the Harvest' poetry competition last week.
The hot summer's over
the long winter's coming.
There's wheat to cut and fruit to pick, there's lots to be done.
The bees are making honey
and the farmers hard at work.
There's wheat to cut and fruit to pick, there's lots to be done. 
The rain has fallen from above
and down below the crops we've sown are ready to be harvested.
There's wheat to cut and fruit to pick, there's lots to be done.
It's time to pick the apples, the lettuce and the plums
and dig up squash and pumpkins for all the little ones.
Just because it's hard work, there still can be fun
as there's lots of delicious food to eat because it's harvest time!
Once Violet and her class had recovered from the shock of hearing JB Gill read out her poem to up to 65,000 people for Harvest Festival LIVE, we asked our young poet and her class teacher, Mrs Bartholomew few questions:
Violet, what inspired you to take part in the Harvest Festival LIVE 'How Nature Helps the Harvest' poetry competition? Everyone in our class entered the competition. We talked through some ideas in class and then wrote our own poems all about Harvest.
Do you have any a special interest in farming? I like growing fruit and vegetables in my garden and gardening.
How did it feel when you heard JB say your name and read out your poem to the nation? I felt very shocked and amazed!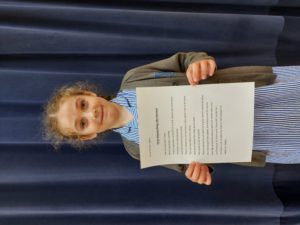 Mrs Batholomew, why do you think it is important that we still celebrated the Harvest Festival? Harvest is such an important time of the year for everyone, and I know that schools all around the world celebrate Harvest. It is important to still keep children informed and aware of what actually happens during such a pivotal moment of the year.
What does it mean to your school to have Violet as the national poetry winner? Our school is incredibly proud of Violet. Being a such a small school, it isn't often that children get shortlisted in national competitions, let along win them! She has highlighted the importance of Harvest to all and hopefully inspired more children to enter national competitions.
What are your next steps on your Eco-Schools journey? We are going to focus on the effects of littering on the environment, organising litter picking and anti-littering competitions. We will also have a drive on energy saving throughout the school. We encourage schools to involve as many people as safely possible in their Eco-Schools actions by hosting various eco-competitions throughout the year.

Feedback on Violet's poem from our judges 
JB Gill: An excellent poem by a talented poet- I couldn't believe that Violet is only 9 years old and able to capture the real essence of the harvest with her words. Fantastic!
Mia Hartwell, Sustainability Manager, Jordans Cereals: Violet did such a brilliant job on her poem that it really stood out of over 500 entries. Well done Violet.
Lee Wray-Davies, Eco-Schools Manager: Violet's poem caught my attention because of her repeated rhyming, it was the only entry in over 500 that had this type of poem structure- it reminded me a little of Julia Donaldson story. An absolutely beautiful piece of writing, you should be very proud of yourself Violet (Mrs Bartholomew definitely is). Well done an Eco-Schools gold star for poetry!
And let's not forget our two runners up; Ruby from Kegworth Primary School and Bittern Class from John Grant Special School,  a selection of Jordans Cereal goodies are on their way to your schools!
Mrs Williams from John Grant Special School, who have been flying an Eco-Schools Green Flag for over 10 years told us the following after hearing her class were runners up during Harvest Festival LIVE.
We have all discussed how we felt about winning 3rd place for the harvest poem competition.  All the students said how happy and pleased they were to win the competition. One pupil stated, 'The whole class exploded with joy' and all students in class agreed that this sums up the feeling of us all. We are proud of our Eco-Schools Green Flag and all pupils can explain in some detail what they have had to complete to achieve this award and are keen to tell all our visitors to school!
Don't worry if you missed Harvest Festival LIVE you can still watch it here to continue to celebrate the harvest…and find out about worm poo too! 
From everyone at Eco-Schools a huge thank you to all who took part in 'How Nature Helps the Harvest' poetry competition, our lovely friends at Jordans Cereals and the Wildlife Trust and of course farmer extraordinaire, JB Gill.
Have a lovely half term everyone.