Eco-Schools Green Flag Case Study
Our Eco-Schools Journey
By Sue Dodds. Eco Schools Coordinator. Foxfield School, Wirral.  September 2020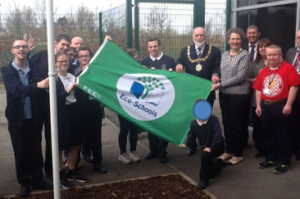 We first heard about Eco Schools in November 2015 after an inset training day for Merseyside SEN Schools. We are an LEA Secondary SEN school that caters for approximately 150 pupils aged 11-19 with complex or profound learning difficulties.
From the start we were very excited to look at the awards and with the support of our wonderful local authority Eco-Schools Officer, we soon discovered that much of what we were already doing as a school met the Seven Step criteria for the Bronze Award, which we achieved almost immediately by January 2016!  Getting the Bronze Award so quickly really spurred us on and with just a few additions to what was already in place, and a willing team of staff and pupils, we achieved our Silver award by April 2016.
The bit was firmly between our teeth by then and we enthusiastically planned our first Outdoor Classroom day and took part in campaigns such as the Great British Spring Clean and What's Under our Feet? Our 'Eco Warriors' were also more than happy to check on staff who were leaving lights on in empty classrooms for the Energy topic! During this time we were also offered an exhibition space for a month and immediately began our 'All Hands On Deck' exhibition of recycled art based on the Helping Hands campaign. Every class produced a piece of art for display using only recycled materials and (cleaned) rubbish as an action for the Energy topic.
By fitting what we were already doing as a school into each of the Eco-Schools topics, and being involved in eco campaigns etc, we were thrilled to achieve our first Eco-Schools Green Flag in June 2016. From Bronze to Green Flag in just 8 months!
From then we have gone from strength to strength, and have become even more focused on improving our environment, and even with lockdown this year, we have just passed our THIRD Green Flag Award!!! Fortunately I always keep evidence of what we have done as the weeks go by, so when it came to completing our renewal application form, we were still able to meet all the criteria using the past year's ongoing work and with the help of the very few pupils we actually had in school at the time!
Biodiversity Ideas:
We have two beehives in our school grounds and run a Bee Club- where we help to look after them and learn all about bees. We also help make our own Foxfield honey to sell in school
We have many other opportunities to learn about ecosystems and wildlife when we visit the beach for our Beach School sessions. We also have a forest den, with a small frog pond, a bug hotel and bird boxes.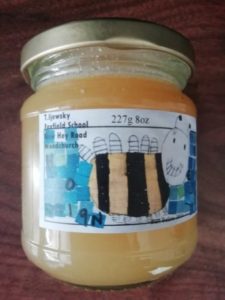 Global Citizenship Ideas:
We support many charities throughout the year in lots of different ways. We sent these sensory toys and some letters from the pupils to Kifaamea in Crete and received a lovely picture from them in return. We also held a coffee morning for MacMillan Nurses too.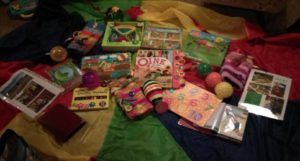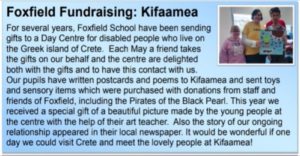 Litter Ideas:
We are starting a 'Work Experience' litter picking group who will work on keeping the school grounds litter free every week.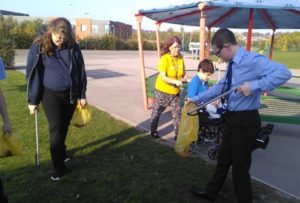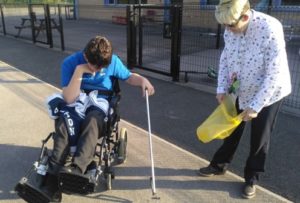 Marine Ideas:
Our Empty Classroom day in summer 2019 was called 'Oceans Day' and we had lots of interesting activities. We even had a Pirate come and tell us about our oceans!  Every class also has Beach School sessions throughout the year in one form or another.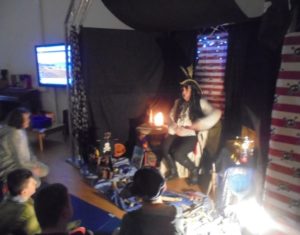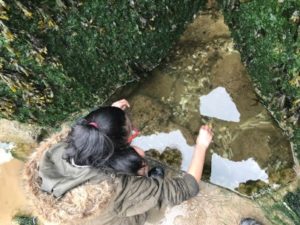 Transport Ideas:
We cannot cut down transport for our pupils as they are all transported in by school buses, however as a staff we have looked at how we may car share, walk or cycle in to school. We also keep our minibuses in good order in order to cut our carbon footprint. We teach our pupils how to use public transport safely, to help them with their independence.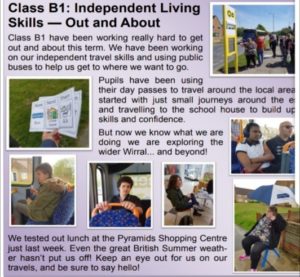 My advice to anyone considering going for the Eco-Schools Green Flag is, DO IT!  Your school is probably already doing many good things environmentally anyway, and the process, we found, has informed many of our decisions around school, improvements such as having solar panels fitted to our roof, and choosing a more eco friendly waste disposal company. In addition the pupils have enjoyed and learned a great deal through our involvement with Eco-Schools and it has brought us all, staff and students, a better awareness of how we can help improve our corner of the world!
If you are inspired by the work of Foxfield and are spurred on to apply for your first Green Flag but maybe need a little help covering the £200 fee then why not take advantage of  an amazing offer from our friends at Frugi- who are covering the first Green Flag fee for 150 schools!